Información general sobre Clio
¿Qué es Clio?
Clio es el principal software de gestión de práctica para el sector del derecho. Con tecnología segura basada en la nube, Clio facilita el día a día de profesionales del derecho en todo el mundo con seguimiento intuitivo del tiempo, facturación, administración de material, aplicaciones móviles y más para simplificar cada tarea, desde la recepción del cliente hasta la factura.
Con Clio, las firmas de abogados de todos los tamaños manejan fácilmente las relaciones y los documentos de los clientes, simplifican la administración y la colaboración y optimizan las iniciativas de marketing. Con capacitación y asistencia de primera clase, los abogados pueden administrar sus actividades de forma segura desde cualquier lugar, en cualquier dispositivo y dedicar menos tiempo al trabajo de oficina y más tiempo en la práctica jurídica. Obtén más información en clio.com.
Información general sobre Clio
Precio
A partir de
39,00 US$/mes
Opciones de precios
---
Funciones de Clio
Disponible en los países siguientes
Estados Unidos, Canadá, Reino Unido
Medios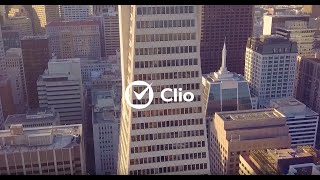 Opiniones de Clio
Opiniones de Clio
Relación calidad-precio
4,6
Asistencia al cliente
4,8
96%
de los usuarios recomienda esta aplicación
After 3 years, I am still working at discarding habits and practices built up over 25 years as a practicing attorney to better incorporate Clio's feature into my daily work flow. One of Clio's driving philosophy's is to make lawyers more productive with their time, and make lawyers services more accessible to persons that need legal advice. Clio's focus on providing multiple access points, including mobile apps designed from the ground up with these two goals in mind, will pay off for both Clio and my practice in the long run.
---
Support easy super good. Clio fixed problems with non english characters in days, Timemattes did not fix it in 20 years we have been complaining.
Clio has extremely good search features and all sorts of filtering. For instance universal search that goes through matters, contacts, events, notes, tasks, time/expenses logs, documents content, doc, names, and communications (emails, sec. mess, phone log).
clio portal for clients, e sign easy to make form-documents connects to IP phone etc.
Faster law is a must I would say. To make a great package even better we subscribed also to Faster Law which has done a fantastic add on to Clio. There you get tools to capture your time automatically, the programs keeps track on how long you spend working on case files, e mails etc. in different cases and suggests billable time for that. There is a lot more like file handling, better way to link e mails, save and link attachments and files, you can explore your files on Clio's serves in you file explorer.
---
Clio set us up for LawPay. Less than 1 week into this month we suddenly can't take anyone's payments. We call Clio and they tell us there is no problem, must be the customer's problem. On two separate occasions they told us there was no limit to the payments we could intake for bills. Finally contact Lawpay who says there is a limit, we exceeded it, and now we can't take another 70 some odd payments this month and the clients all think we are idiots. Why would they sign us up for a program that limits retainers and payments to $10,000 when Clio knows we have 4 full time employees based on the licensees we have?
---
If you're not used to a system, this can be made into a good system for you. There are a lot of functions missing--like being able to track time associated with flat fee activities (so you can't track productivity or if you do, you can't print out your billable hours without some discussion to the ethics board). You can track e-mails and phone calls, but not faxes, letters, or text messages. You can set tasks for others that you can update, but the update doesn't get sent to the other person. You can set pop-ups on your calendar for yourself, but not for other people. You can track the budget of a case, but not the running total of transactions or expenses. You can integrate with Quickbooks, but you have to import and export the information--the information does not flow freely between the two. The calendar has all of the same pitfalls as Google Calendar because it is Google calendar but with some functions missing. You can upload and download documents, and you must do that in order to save any changes with Clio (unless you pay for HIPAA-compliant Google Drive Professional). Your receptionist has to separately capture phone messages from your client to you because only you can have conversations. Wandering between the conversations page and the logs page means that you will always end up back in the Matters tab. If you're trying to capture a phone call with a person not in the system you have to exit the phone call and lose all of the information to enter that person before you can save the conversation to a file. It's not customizeable. There are some pros over Amicus but many features I miss (such as being able to track time directly with the phone call, including the time the call was initiated) but it has good parts about it. If you're into nitty-gritty capturing of information and you have the time to invest it can be a good platform but trying to teach established attorneys how to rework their legal practice around it is difficult.
---
My overall experience has been great! They are always making sure to take the next step in integrations and constantly keep their software up to date and secure.
---
Compara con las alternativas según la valoración global
Compara las alternativas
Compara con las alternativas según las recomendaciones de los usuarios
Compara las alternativas
Precios de Clio
Precios de Clio
A partir de
39,00 US$/mes
Compara las alternativas según la relación calidad-precio
Compara las alternativas
Funciones de Clio
Funciones de Clio
Creación de informes personalizables
Creación de informes y estadísticas
Gestión de flujos de trabajo
Gestión de la conformidad
Gestión de la contabilidad
Importación y exportación de datos
Notificaciones automáticas
Procesamiento de facturas
Compara con las alternativas según la valoración de características
Compara las alternativas
Categorías
Preguntas frecuentes sobre Clio
Preguntas frecuentes sobre Clio
He aquí algunas preguntas frecuentes sobre Clio.
P. ¿Qué tipo de planes de precios ofrece Clio?
Clio ofrece los siguientes planes de precios:
A partir de: 39,00 US$/mes
Modelo de precios: Suscripción
Prueba gratis: Disponible
P. ¿Cuáles son las características principales de Clio?
No tenemos información sobre las características de Clio
P. ¿Quiénes son los usuarios habituales de Clio?
Los clientes habituales de Clio son:
Empresas pequeñas, Empresas Grandes, Sin ánimo de lucro, Trabajadores autónomos, Empresas medianas
P. ¿Qué idiomas admite Clio?
Clio admite los siguientes idiomas:
Inglés
P. ¿Qué tipo de planes de precios ofrece Clio?
Clio cuenta con los siguientes planes de precios:
Suscripción
P. ¿Clio es compatible con dispositivos móviles?
Clio admite los siguientes dispositivos:
Android, iPhone, iPad
P. ¿Con qué otras aplicaciones se integra Clio?
Clio se integra con las siguientes aplicaciones:
Chrometa, Cyfe, FactBox, InvoiceSherpa, Law Ruler, PieSync, Teamleader, Wishpond, Xero, Zapier
P. ¿Qué tipo de asistencia ofrece Clio?
Clio ofrece las siguientes opciones de asistencia:
Base de conocimientos, Asistencia en línea, Asistencia telefónica, Tutoriales en vídeo